KaDeWe Berlin – food level 6th floor (special)
Foodshopping has its own address in Berlin, strolling into the 6th floor of KaDeWe. The Kaufhaus Des Westens (department store of the west) is existing since 1907 and its food store since the late 1920s. The size of this place is impressive and it is worldwide after all the second largest gourmet floor, iside of a department store.
The scent of the wide dining area is facing you already on arrival on the escalator or elevator. The variety of shopping options must therefore first be explored. You can find alcohol and wine from all over the world and of course also fresh fish, sausages and cheese from Denmark. Let's focus on the sweet things in life in this special article. The KaDeWe offers plenty of monumental presents of the city's most famous landmark: the Brandenburg Gate in Marzipan, powered by Niederegger.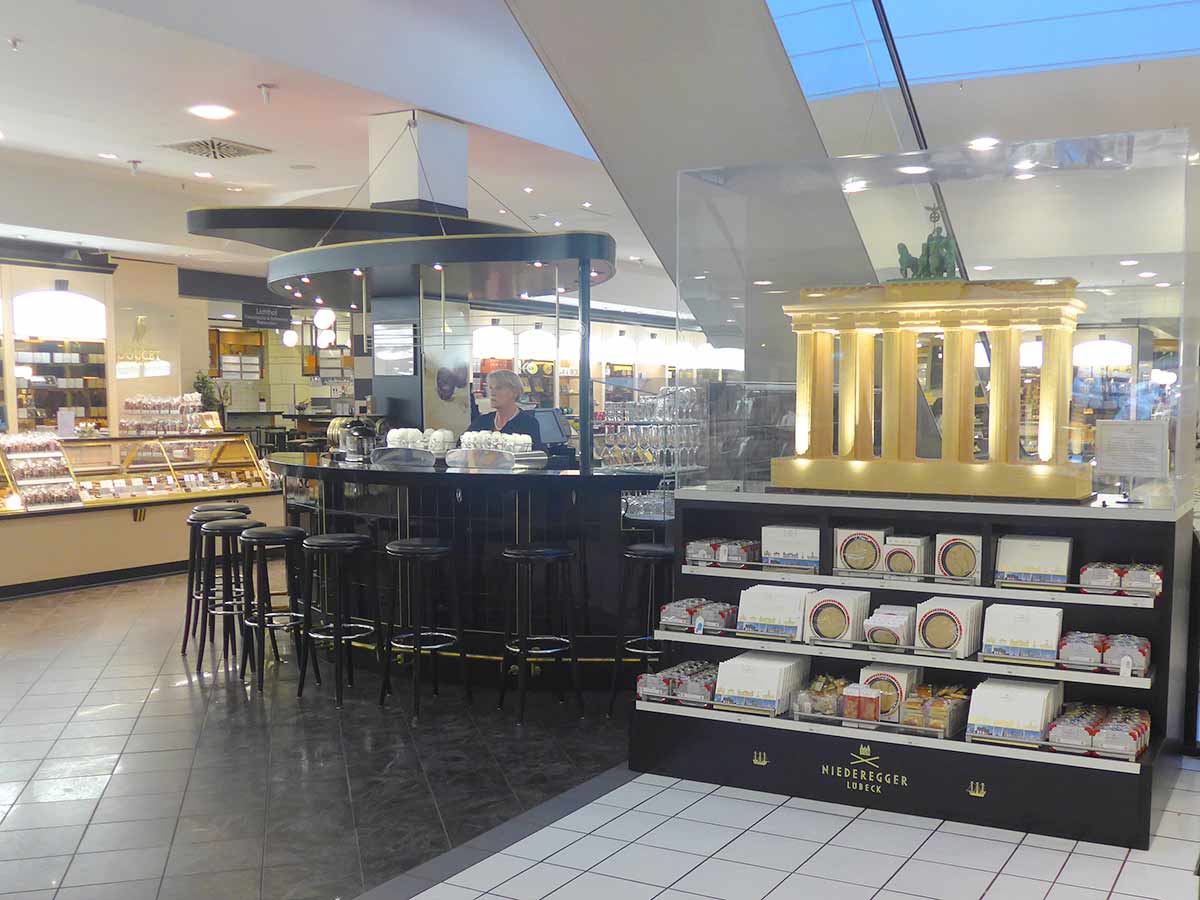 OK, certainly too big for personal use but you can also get it in a compact form with the same taste in the usual Niederegger quality.
Of course there are also plenty of chocolates available on this floor and you should try the local brand Sawade Berlin, which is the oldest chocolates and truffle specialist in town.  Likewise, international players such as the famous chocolate brand Neuhaus from Belgium are available.
Unfortunately no longer available is the chocolate of the local chocolate producer Rausch but you can get their excellent chocolate and praline products in their chocolate house on Gendarmenmarkt. Surprisingly, it is time for a break after so much food shopping and also here Foodseeing can make a recommendation. Lenôtre, established in KaDeWe since 1975, is the first foreign branch of the famous patissier Gaston Lenôtre. The counter selection is overwhelming and offers a sensational selection of cakes, tarts or desserts.
After a good deal of thought, the choice is on an apricot orange creation. More specifically: orange mousse with apricot compote on carrot biscuit and a nougat crisp ground. A fruity explosion also spreads in the mouth, which tastes heavenly creamy and offers a crispy finish. No wonder that Gaston Lenôtre was called innovator of the art of confectionery and has even received the Cross of Merit of the French Legion of Honor by Paul Bocuse. Such sweet arts are simply appealing to everyone.
Don't miss the chance to stop by at the KaDeWe which is already a sightseeing spot of Berlin. Its shops and restaurants are open Mon-Sat from 10am to 8pm.