Best Coffee Places – Japan
Rating: Rating:
(4.5 / 5)
In the land of the Rising Sun, the coffee sky also shines brightly on the bean firmament. Japanese third wave coffee shops are fancy, cosy and often opened longer than in many other countries. The never sleeping and impulsive city of Tokyo also offers endless possibilities here. So how about the Unlimited Coffee Bar, in the shadow of the gigantic Asakusa Skytree.
We got a friendly welcome by the owner so we started with the signature dish of the house: Cold brew with soda and orange flavour. It's a real treat, which is not very cheap, but it tastes tempting.
The quality of the coffee and the combination of tastes surpass any expectation. Now let's go to our next stop.
The roastery by Nozy Coffee in Shibuya welcomes you in their large scaled shop. The young also international audience radiates a hip Lifestyle feeling and we decided to order a café Latte here. It is slightly sweet and very good. However, it has acid bitterness that kept us from giving a higher Rating score.
If you want to stay almost alone among Japanese locals, you should go to the Café Lexcel at the Tokyo Station. It's a beautiful place with glass front view to entertain yourself.
The selected cappuccino with Bourbon honey flavor from El Salvador is good, but lacks a bit of taste intensity.
In the Fuglen you can get some Norwegian candy, but also great coffee. The Café Latte is mild and slightly sweet. Even after a while, it is still exquisite in taste and can be enjoyed in a comfortable Sofa seat.
After so much caffeine power it was not easy to leave Tokyo but we had to continue or coffe trip and go deeper into the south.
In Osaka, many third wave coffeeshops are located near the Orange Street. It is a hip area and our way leads us to the Lilo Coffee Roasters. We wanted to try a little but fine café again with cold brew and so we picked beans of the roaster Alfredo Diaz from the Dominican Republic. It has a slight chocolate & strawberry taste and gave us a fully satisfied feeling.
Now it is time to head to our last coffee spot in our journey. The cultural treasures and pure coffee pleasure can be combined in a wonderful way in the historical paradise of Kyoto.
100% Arabica is the name of the store in the middle of the old Town, which attracts many customers due to the served quality. The 15 minutes of waiting are worth it. A creamy Café latte gives us the full energy for a stroll around the old town alleys.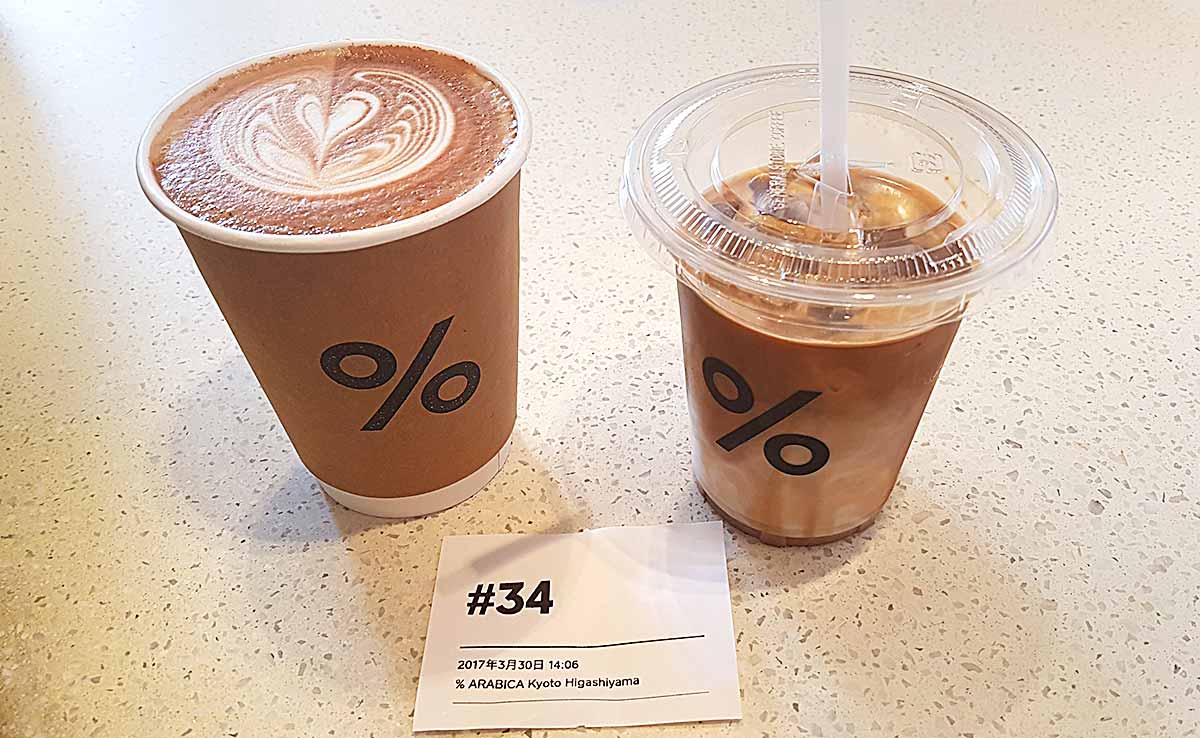 And so the fantasy arises that many tourists that are wearing Kimonos are actually real Geishas. However, a lot of imagination is not necessary to realize that even in Japan full-bodied coffee is plentiful.
Unlimited Coffee Bar Asakusa Skytree (Tokyo) – Cold Brew Soda – 44 of 50 Coffe beans
The roastery by nozy coffee (Tokyo) – Cafe Latte 41 of 50 Coffe beans
Cafe Lexcel (Tokyo) – Cappuccino 37 of 50 Coffe beans
Fuglen Tokyo (Tokyo) – Cafe Latte 43 of 50 Coffe beans
LiLo Coffee Roasters (Osaka) – Cold Brew 44 of 50 Coffe beans
100 % Arabica (Kyoto) – Cafe Latte 43 of 50 Coffe beans